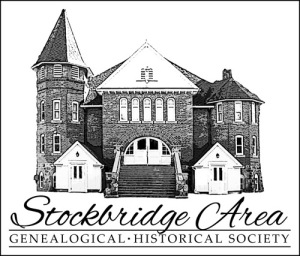 Welcome to the Stockbridge Area Genealogocial/Historical Society! Founded in 2001 as a non-profit organization, the society's goals are to preserve and promote genealogical and historical information throughout the Stockbridge community.
The Stockbridge, Michigan area covers a large geographic area which includes parts of four counties: Ingham, Livingston, Jackson, and Washtenaw. Many small farming communities are included in the Stockbridge area: Gregory, Unadilla, Plainfield, Millville, Pinckney, Parkers Corners, Waterloo, Munith, Lyndon Center, Stockbridge, Hell, Bunker Hill, Fitchburg, Dansville, White Oak, and Pleasant Lake.
In addition to the digital holdings available through our website, we host events from public presentations to an annual cemetery tour, and are in the process of archiving a growing collection of books, photographs, historical records, and more. Holdings are available for viewing by appointment in our offices in the lower level of the Stockbridge Township Hall, 125 S. Clinton Street. Please email stockbridgeareaghs@hotmail.com or contact us on Facebook for more information.